You are here
Stuart Lee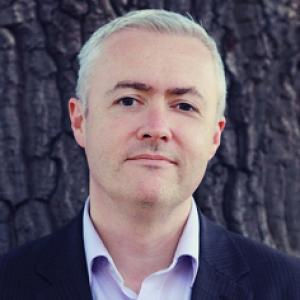 Academic Position:
Lecturer and Reader in E-learning and Digital Libraries
Research Interests:
Medieval, Fantasy Literature, WW1 Literature, Electronic Publishing
Dr Stuart Lee is a member of the Faculty of English as well as the University's Deputy CIO. In English he has taught Old English, World War One Poetry, Fantasy Literature (with a focus on J. R. R. Tolkien) and digital humanities. He is a member of several senior University committees, and has led major research projects in the fields of digitisation, humanities computing, and e-learning. Key projects he has led or worked on are the First World War Digital Poetry Archive, the Great War Archive, Woruldhord, and Europeana 1914-1918. In 2008 he was made Oxford's Reader in E-learning and Digital Libraries and received a University Teaching Award. He has also received an award under the VC's Public Engagement with Research.
Recent Publications
(ed.) Critical Assessments of Major Writers: J. R. R. Tolkien 4 Vols. (Routledge, 2017).

The Keys of Middle-earth 2nd. ed. with E. Solopova (Palgrave-Macmillan, August 2015).

(ed.) A Companion to J. R. R. Tolkien (Blackwells/Wiley, 2013).

'lagustreamas: J. R. R. Tolkien and The Battle of Maldon' in The Wisdom of Exeter, Medieval Institute Publications ed. E. Christie (Kalamazoo: Western Michigan University Press, due December 2019)

'BBC Radio Dramatisation of The Lord of the Rings' (1955-56)' in The Road Goes Ever On: Essays in Honour of Christopher Tolkien (Oxford: Bodleian Library Publications, forthcoming 2020)

'"Tolkien in Oxford" (BBC, 1968): A Reconstruction', Tolkien Studies XV (2018), 115-176

'The British Canon' in The Cambridge History of World War One Poetry ed. J. Potter (Cambridge: CUP, forthcoming 2021).