You are here
Daniele Nunziata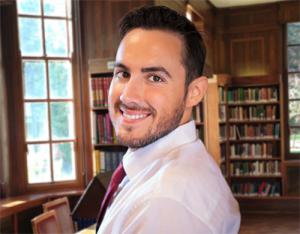 Academic Position:
Lecturer in English Literature
Research Interests:
Postcolonial Literature; World Literature; Travel Writing; Translation Studies; Comparative Criticism; Literature 1800–1900; Literature 1900–Present; Refugee Writing; Cypriot Literature; Levantine Literatures; Middle Eastern Literatures; Asian Literatures
Dr Daniele Nunziata is a specialist in postcolonial literature. He is particularly interested in cultural production from the Eastern Mediterranean (also known as the Middle East), including travel writing about the island of Cyprus before and after its independence from the British Empire.
He is the author of Colonial and Postcolonial Cyprus: Transportal Literatures of Empire, Nationalism, and Sectarianism (Palgrave Macmillan, 2021). This book examines the modern literary history of the island and explores ways in which this specific context adds crucial new insights to the postcolonial field while putting pressure on some of the discipline's existing assumptions. The paradigm of 'transportal literatures' is used throughout the monograph to elaborate on the layered forms of colonialism, neo-colonialism, and nationalism which have impeded the freedom of Cyprus, and its writers, since the late nineteenth century.
His other research into postcolonial literary works from across the globe have been published in journals including PMLA, the Journal of Postcolonial Writing, and Forum, as well as the book World Literature in Motion (part of the Studies in World Literature series by Columbia University Press, 2020).
As well as lecturing, he tutors undergraduate students on the Victorian and modern literature Papers, and supervises undergraduate and master's dissertations.
Elsewhere across the university, he has organised and co-organised several seminar series and conferences on world literature, including The Displaced Mediterranean and Translational Spaces. The latter was co-convened with the Oxford Comparative Criticism and Translation (OCCT) group. He has written for the Oxford Centre for Life-Writing, TORCH, and Writers Make Worlds, a vital online resource celebrating contemporary postcolonial literature.