You are here
Maria Edgeworth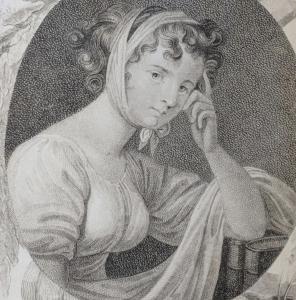 'I have made up my mind to like no novels really but Miss Edgeworth's, yours, and my own' — Jane Austen to her niece Anna Lefroy in 1814
It was Maria Edgeworth (1768–1849), not Jane Austen, whose works dominated the bestseller lists of the early nineteenth century. Maria was at the centre of a large, extended Anglo-Irish family whose story involves a vast cast of characters: four wives and mothers, 22 siblings and half-siblings, clutches of aunts and uncles. The place around which they gravitated was Edgeworthstown, the family home and estate in County Longford: the dynasty behind it was memorialised and mercilessly mocked in Maria's most famous work, Castle Rackrent (1800).
In March 2019, a new project was launched between the Oxford English Faculty and the Bodleian Library, Opening the Edgeworth Papers - http://blogs.bodleian.ox.ac.uk/archivesandmanuscripts/
The Bodleian Libraries hold a rich and varied collection of papers related to the Edgeworth family from the 17th to the 19th century. Only a tiny percentage of the material contained therein is available in print and even less has been subject to scholarly editing.
The collection may be little known, but it is of great significance, providing vital evidence (manuscript drafts and correspondence) about the literary career of one of the most important novelists of the early 19th century, Maria Edgeworth (1768-1849).
This page contains a video of a performance of an unpublished play by Maria Edgeworth and in the Essays and 'Other" section, documents relating to the surviving manuscript of this play and the performance.